Landscaping in Ocean Springs, MS
Live Oak Landscape Group has been working with private homeowners, businesses, developers, interior designers, and architects to create imaginative beautiful and functional landscapes all over Ocean Springs. We believe that a beautiful landscape has the potential to transform the visual appeal of your home or business completely.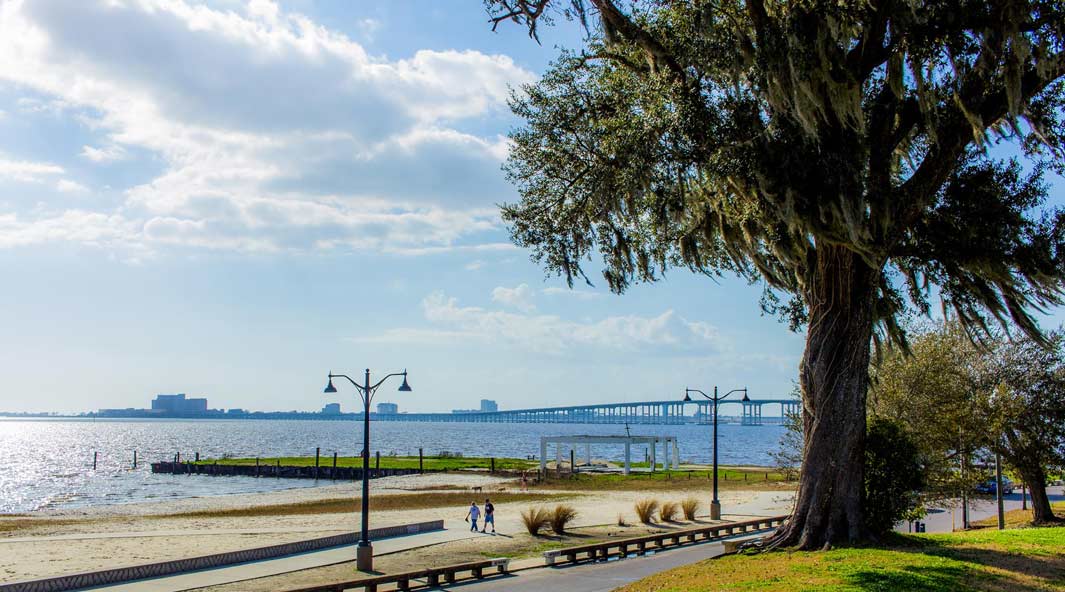 For decades we have been designing landscapes that inspire a sense of place made by professionally trained landscapers with years of experience in patio design and landscaping. We provide our clients in Ocean Springs with design solutions fit for their spaces that will enhance the functionality and look of their properties. Whether you are looking for designs for shaded courtyards or exposed roofs, we have the professionals with the skills and experience to get you just what you need. With years of experience working in Ocean Springs, MS, we are well versed in the nuances of installing and designing in the city.

Whether you are looking for landscaping ideas, outdoor patio design, and landscaping installation, we have professional landscapers ready to make your landscapes beautiful. Some landscaping Ocean Springs services that we provide include, stump removal, landscape design, hedging, sodding, outdoor patios, drainage and sprinkler systems, outdoor lighting, concrete and brick paving, fireplace and fire pits, and fencing among many others. With Live Oak Landscape Group, you can be sure that whatever landscaping service you need, we will provide it. We are a full-service business that has satisfied the needs of thousands of clients across Ocean Springs for decades.
Think great Landscape Ocean Springs, think no further than Live Oak. Magnificent landscapes always begin with good design. We provide disciplined attention to detail, which is what makes out landscapes so unique and beautiful. Our landscapes stand out for their vision and defined style, that has beautified tens of businesses and homes in Ocean Springs.
We have the expertise and dedication to see your project right from the start right to the very end. Since we are in charge of the design of the landscapes, we know just what is needed to make your vision come alive. We have professional architects and installers who are experts in everything from sprinkler systems, drainage, irrigation and building of outdoor paving, patios, and kitchens among others.
We provide maintenance of your landscapes at both your commercial and residential properties across Ocean Springs. We are proud of our professionalism, reliability, and quality which shines through every property that we work on in Ocean Springs.
Why Choose Us
1)We have decades of experience providing beautiful landscapes for clients in Ocean Springs.
2)Live Oak Landscape Group is a full-service landscaping company where you can get all your landscaping needs.
3)We service both commercial and residential properties.
4)We have professionals that include architects and designers who will design and install your landscape vision.
5)We are dedicated to customer satisfaction and always ensure that we do our best work in the design, installation, and maintenance of your landscapes.
Contact Us For A Free Estimate!